SKD-BK900/SKD-BNK900
(Apply for torque display series)
Whole series use brushless motor, no carbon pollution, and low noise motor operation. It is the best fit for assembling power torque products.

Assemble large-sized LED/LCD panel and home appliances. Tools can be hanged with spring balancer to lessen work fatigue.
SKD-BK900 series torque range can reach up to 2-12 N.m; SKD-BK900 series torque range can replace pneumatic screwdriver to avoid unstable torque due to the fluctuation of the air pressure. Also can prevent oil and noise pollution and achieve energy saving and more Eco-friendly.
SKD-BK900 series can be equipped with side handle, or Auxiliary Arm, to increase the torque stability and accuracy.

Suitable for assembling large-scale work pieces in semi-automatic or full automatic assembly line. In particular, the most suitable for applications such as automotive industrial parts assembly, air conditioning, electricity, telecommunications, large appliances and medical equipment assembly.
Highly mobility, easy to operate, stable torque, high efficiency. Motor can be free from fatigue under long-working hours.
SKD-BN900 / BNK900 Series photo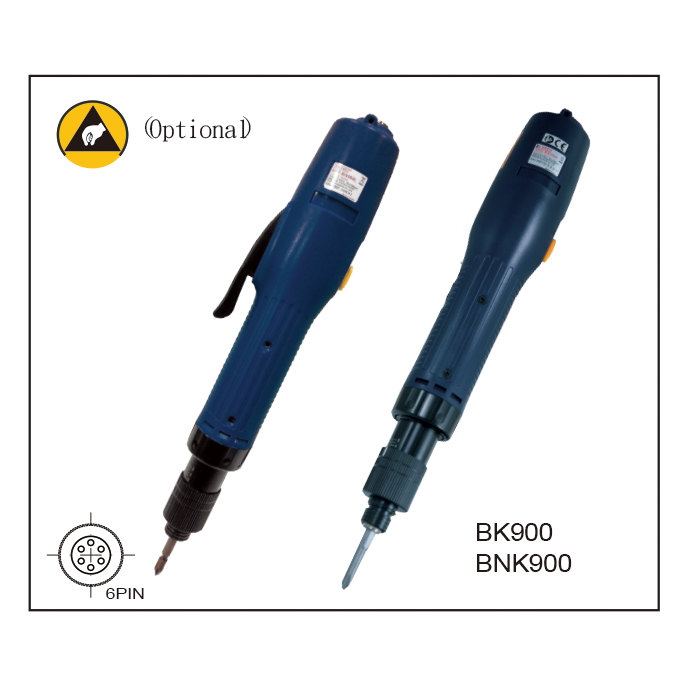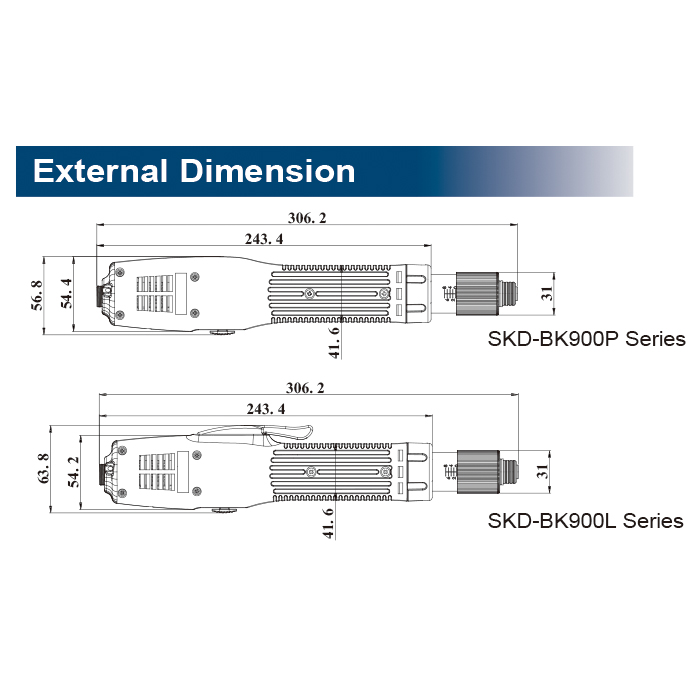 Product Spec
Model
SKD-BK960L
SKD-BNK960L/P
SKD-BK960LF/PF

SKD-BK990L/P
SKD-BNK990L/P
SKD-BK9120L/P
SKD-BNK9120L/P
Input Voltage
DC40V
Power Consumption
150W
150W
150W
150W
Torque
(N.m)
2~6
2~6
3~9
6~12
Repeatable Torque Accuracy(%)
±5%
Torque Adjustment
Stepless
Free Speed (r.p.m)
Hi
1000
2000
1000
880
Lo
-
-
-
-
Screw Size Dia (mm)
Machine Screw
4.0~5.0
4.0~5.0
≤ 6
≤ 8
Tapping Screw
≤ 4
≤ 4
≤ 5
≤ 6
Weight(Kg)
1.03
Length(mm)
306
ESD(Anti-Static)
V(black housing)
CE
V
RoHS
V
Auxiliary Arm
V
Handle Grip
V
Power Controller
SKP-40B-HL-800(N)
Bit Type
B W