Handheld Nutrunner : Handy2000 Cordless
Features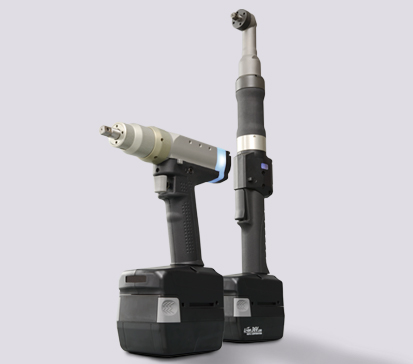 ESTIC embedded EWT (ESTIC WIRELESS TECHNOLOGY) on beloved Handy2000 series fastening tool in the world, and now available in cordless tool.
ESTIC WIRELESS TECHNOLOGY is complied with IEEE802.15.4 which has advantages such as high speed, low electrical consumption, long distance. Frequency Band 2.4GHz (2405-2480MHz). Antenna Power 0.9mW.
Handy2000Cordless is available for Japan, China, Europe, Brazil, Russia, USA and Canada market.
Quality
Tool performance is tested with the equipment complied with ISO5393
Fastening accuracy 3σ/ x ≤ 3% F.S. (on direct mode), 3σ/ x ≤ 5% F.S. (on pulse mode, Righit Angle type)
Manufacturing in accordance of ISO9001
Environment
Power consumption is 1/20 compared to conventional pneumatic tools
No oil mist and noise reduced
Complied EC Directive
Ergonomics
Reaction force is remarkably reduced with patented pulse drive technology (Patent USA and Japan)
Cordless tool improves usability and mobility
Ergonomically designed hand grip fits operator's hand