Choosing between
Microntech KILEWS

SKC-PTA(clutch shutoff) & SKC-PTM(impact shutoff)

KILEWS developed industrial brushless cordless tool series. KILEWS screwdrivers are compact, light weight, ergonomically designed, and easy to use, less noise, environment friendly with dust free operation. Heat generated by the motor is reduced and screwdriver performance is usually at the utmost level leading to reliable product quality. KILEWS cordless screwdriver ensures product quality, cost savings and a discount in overall failures.
SKC-PTA series-
KILEWS presents Shut- off Cordless Brushless Power Torque Screwdrivers Series with ±5% Repeatability/accuracy, high performance brushless motor and lithium-ion battery are adopted for all Kilews cordless shut off screwdrivers for industrial purpose. In KILEWS automatic shut-off series 2 methods available (in 2 different models) to adjust torque, which are internal adjustment and external adjustment. Internal adjustment models are SKC-PTA-220/150/120/80/50 & SKC-PTA-L300/600 torque range from 1 – 60 Nm Speed range from 350 – 2100 RPM. External adjustment models are SKC-PTA-B120/90/60F/50F/60/35/35F, torque range from 1.5 – 12 Nm Speed range from 800 – 2000 RPM.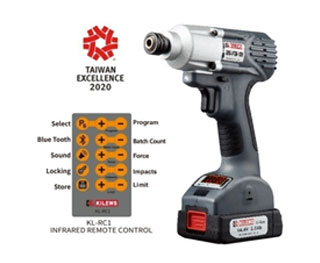 SKC-PTM Series –
Microntech KILEWS presents Multi- steps Impact Screwdriver SKC-PTM series with ± 10% accuracy, and torque Range as 5N.m~50N.m, 20Nm ~70Nm & 20N.m~100N.m. Microntech Kilews Cordless Tools use high performance Li-ion battery for durable life. Remote control setting, Screw counting function, Multi-steps torque adjustment (Force/Impacts), Error Detectable of cross threaded/Stripped & double hit detection. In SKC-PTM series have function to control the hammering and force of the hammering, so torque according to these controlling points can be generated the different torque value
Choosing between SKC-PTM & SKC-PTA –
According to the joint condition, accuracy line speed or production volume, users can select the KILEWS cordless screwdriver. If joint is critical and accuracy is important SKC-PTA series (clutch shut-off) cordless screwdrivers are perfect. If applications have non critical joint and heavy production is there then SKC-PTM (impact shut-off) cordless screwdriver series is perfect for this.
Microntech is the leading assembly solution provider in India, which provides the best results to its customers in a sense of quality and accuracy with its services. Microntech has a presence everywhere in India and because of more than 30 years of experience is a preferred supplier for several manufacturers in India. To know more about assembly solutions provided by Microntech please visit our website www.microntechgroup.com otherwise you can contact your nearest Microntech branch by emailing at sales@microntechgroup.com to schedule a demo or a visit for any assembly related issues you are facing on your production line