What is use of PU hose between airline and pneumatic tool? How is it attached to pneumatic tool?
The PU (Polyurethane) pipe combines the required properties of plastic and also of rubber. It offers abrasion and tear resistance, high tensile and elongation values, and low compression set. Polyurethane is naturally flexible and exhibits virtually unlimited flexural abilities. PU pipe is extremely durable and long lasting also. It is use to connect the main air pressure supply to the pneumatic tools using various types of attachments. Pneumatic tool is a type of assembly tool which is the best tool for tightening of application in fast production company having higher accuracy and speed with great results. Pneumatic tool works on the principal of compressed air, which rotates the motor of the tool and generate the power. Compressed air is kept in the storage tank must be the pressure higher than the atmospheric pressure.
1. FRL (Filter Regulator and Lubricator)
The main function of FRL is to filter the air pressure coming from the compressor, which is needed to protect the tool from damaging of internal parts. Regulator is use to control the supply of air pressure and lubricator is use to remove moisture from pressurized air.
It is also used to switch pressure from low to high and high to low.
2. Tool Cable and air hose pipe
Tool cable is use to connect tool and controller and hose pipe is use to connect tool and main air supply.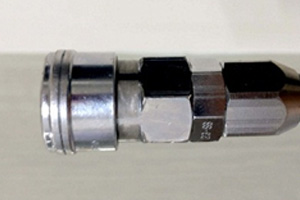 3. Coupler
Coupler is use to connect both FRL to hose pipe to tool
4. Valve Plug
Valve plus is use to connect hose pipe to tool
Microntech is channel partner of Yokota Pneumatic Tools in India, having local sales and service support all over India. Microntech has a team of experts that can help you understand the torque process and can give support for all needs on an assembly line. Microntech is a premier assembly solution provider in India with global experience. To know more about assembly solutions provided by Microntech please visit our website www.microntechgroup.com or you can contact your nearest Microntech branch to schedule a demo or a visit for any issues you are facing on your assembly line by mailing at sales@microntechgroup.com