Assembly Robots
With increased requirement of system integration and data traceability in assembly lines, manufacturers are looking for assembly robots that are dexterous, compact, fast and repeatable. Microntech meets this requirement with Estic Robot System. ERS is a preassembled robot which can be easily programmed without help of any external PLC, so it helps in removing complexity of trying to find compatible communication systems. There is flexibility for multiple functionalities in future due to independent working of system.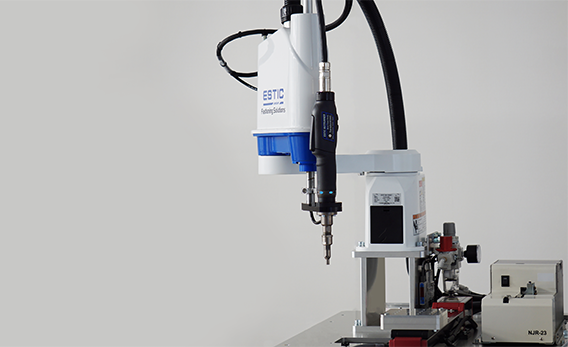 Robot Features :–
⦁ Direct Teaching: Nutrunner software comes with inbuilt function to program the robot without any external help. It can be easily taught the process sequence and pokayoke required. No need to do ladder programming in PLC.
⦁ Vision Position Correction Feature: ERS has a hole position shift correction feature that helps inbeing careful about small shifts, so it helps in correcting the position for every tightening coordinate and improves productivity.
Screw presenting system or Screw feeding system can be used to automate screw delivery function too. Torque and Angle of tightening can be dynamically outputted from Nutrunner system to any external device like PLC, Server, PC etc. The extra benefit of using a robot system is that torque data can be fed in reference to the coordinate of tightened bolt, which makes it very easy for manufacturer to identify any NG tightening and rectify it.
The Nutrunner system comes with various Pokayoke features like OK, NG, Batch OK, Double Hit Detection, Cross Threading Detection, Thread Washout Detection etc. Nutrunners can go upto lowest torque of 0.1nm.
Get in touch with nearest Microntech branch to know more about these robot assembly systems and we can simulate and present how this system can improve efficiency of your assembly process.